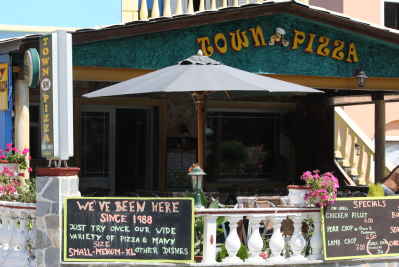 Town Pizza is located just off the main strip of San Stefanos on the road leading to Arillas and is run by Stamatis Mouzakitis and his family. As the name implies, it's a pizzeria that also offers a wealth of Italian dishes, Greek dishes and even some English cuisine. It's a popular option for those who are staying in self catering accommodation as you can choose to take your food away or even request for it to be delivered to your door! There is a pleasant seating area outside the restaurant or you can choose to sit inside. They offer a wide choice of dishes so there's something to suit everyone such as;
*Pizzas of all sizes with numerous topping options.
*Baked pasta dishes.
*Pasta dishes such as bolognese, seafood, carbonara.