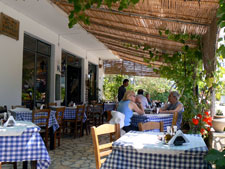 Brouklis restaurant is located to the left of the crossroads in the center of Arillas. It is a relaxed and friendly family run taverna serving excellent authentic Corfiot cuisine. Brouklis is one of the longest running restaurants in the area and has kept its original design with an outdoor seating area sheltered by climbing, intertwining vines. The quality of food speaks for its self here as this is a popular choice even for the locals. It has a wide variety of home cooked traditional dishes including appetisers such as sardines, courgette balls and cheese pies. Main course dished include spit roast chicken or lamb, sofrito and many more Greek favourites. Brouklis has a tremendously welcoming atmosphere and Dimitris and his family will ensure that all your needs are met and expectations surpassed. There is a specials board outside that is updated daily to include many real Corfiot specialties such as:
*Pastitsada - Beef cooked in spicy tomato sauce with pasta.
*Sofrito - Tender beef cooked in a white wine and garlic sauce.
*Bourdetto - Fish in a hot paprika sauce.
*Pastitsio - Layered minced beef and pasta.
Dimitris is a fellow webmaster who runs a local information site all about Arillas called www.arillas.com