Local Walks
Walk to AG Georgios
( 5km approx 1hr 30 minutes each way )
Agios Georgios, also known as St George is a beautiful bay surrounded by a backdrop of cypress tree clad mountains and absolutely amazing scenery. The sandy beach stretches over 2km along the curve of the horseshoe shaped bay. The sand on the beach is coarser than that you would find in Arillas or San Stefanos but is still very popular with holiday makers.
This walk is quite challenging therefore is suitable for those who have experience or are reasonably fit. Appropriate footwear is needed so definitely no flip flops or summer sandals. Remember to take plenty of water with you as once you pass Arillas the shops are few and far between.
Firstly you have to make your way to Arillas either on foot or by car. The walk starts at The Marina Hotel by the jetty, follow the road which runs alongside the beach. Keeping to the road with the sea on your right, head towards the tavernas and holiday apartments until you reach the Thomson Hotel Bardis Sun. Follow the road to the left, the next road you are looking for is on the right hand side opposite the Villa Feakes Apartments. Don't go past the sign for Mon-Amour Taverna.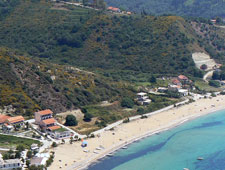 Turn right onto a tarmac road leading into the olive groves and be prepared for a long walk up into the hills. The path twists and turns on its slow ascent up into the mountain. The path continues to wind up into the hills turning back on its self when it gets very steep. There are a number of vantage points on the way where you can stop for a drink and to admire the view, especially when you reach the top overlooking San Stefanos and Arillas in the distance. Continue to follow the path until you reach the main road and turn right, remembering where you left the path for the return journey. Keep on this road past the graveyard on your right until you reach a junction with a sign leading down to the beach of St George. It will take you around 15mins to navigate your way down this very steep winding road but at the bottom you will find yourselves in paradise! Take care on your return journey as soon after you rejoin the path in the olive groves it splits into 3, be sure to take the middle path home.