Local Walks
Walk to Porto Timoni
This walk starts and finishes at the Dionysos Taverna in Afionas so you can either follow the walk to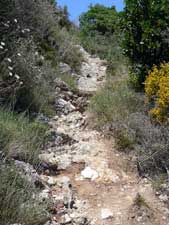 Afionas and carry on from there or drive to the taverna and park up in the car park. This walk is quite challenging therefore is suitable for those who have experience or are reasonably fit. Appropriate footwear is needed so definitely no flip flops or summer sandals. Also the path can become quite steep and narrow and at times requires a large step down to the next level.
From the craft shop in Afionas take the left hand track towards the Dionysos, before you reach the taverna look out for a path running parallel to the taverna passing the terraced seating area and the cypress trees. Keeping the taverna on your right you will soon pick up the path. Take care as the path can become slightly overgrown sometimes. The path wanders down the headland and is barely visible from the beach. You will soon see the bay of Porto Timoni on the right and Limni to your left. Many people visit these bays by boat or pedalo from the beach.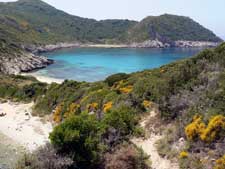 Porto Timoni is the larger of the two bays and has a glorious beach with clear water for you to swim and snorkel. It should take about an hour to arrive at the bay from the taverna, allowing time to stop for photos and water. If you are feeling adventurous the walk continues up the hill to the far left hand side of Porto Timoni towards the church of Agios Stylianos which is set in a rock cave. It's best not to attempt this walk when it's wet as the surfaces are steep and can be slippery.