Margaritas Suites – Direct bookings.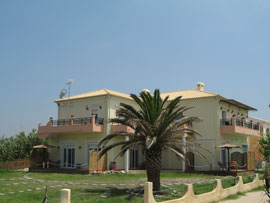 In their own private grounds, these new and stylish, flower-themed suites offer luxury and comfort right on the seafront of San Stefano beach – you will be sure to have stunning views as the sun sets with the Diapontian Islands in the background.
On the ground-floor level, you can choose between our four open plan "Junior Suites" – three of which have large private verandas joined with their own private pools, which open up to the sight and sounds of the sea.
The Lavender Suite has its own fitted Jacuzzi on the large patio along with luxurious sun beds.
On the first floor level you can choose between the two larger, one bedroom spacious suites, offering you more privacy, as well as exquisite views so you can sit back, relax and watch the world go by.
Margarita's Super Market is located just a stone's throw away from the Suites, and all restaurants, tavernas and pools are a two minute walk away.