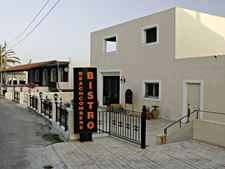 The Beachcombers restaurant is situated on the beachfront in the quieter area of San Stefanos, away from the hustle and bustle of the main street. This classy bistro is the perfect setting if you're looking for somewhere a little more up market or to celebrate a special occasion with their extensive selection of fine wines and mouth watering dishes. You can sit back, relax and watch the sun set over the beach whilst enjoying quality freshly prepared food. The interior is stylish and modern, adding to that feeling of a 5* dining experience. Sue and Makis will make sure that your every need is met and you're sure to leave with a full tummy and a smile on your face. You can expect to find the following tantalising dishes on the menu;
*Pear, rocket and parmesan salad.
*Bruschetta with basil and tomatoes.
*Pork medallions with blue cheese.
*Fresh mussels daily.