Escape for the day and be your own captain…! From the sea, the scenery, experiences and accessible locations are entirely different and exceptionally beautiful. Whether you decide to go on a discovering journey of all the hidden treasures in the surrounding areas, or just to find a quiet spot for you and your friends and family, be your own Captain and enjoy the experiences it can give you!

On the day, you will be provided with a map with the best places you can visit within the given boarders. Porto Timoni & Paleokastritsa, with its famous coves and caves, heading towards the South West, offers gorgeous headlands and incredible underwater rock formations ideal for snorkeling. Or, head towards the East; Logas, Cape Drastis and Canal D'Amour offer an entirely different view whilst you sail past the stunning clay cliffs and the turquoise sea. Whichever way you chose to go, you are guaranteed an unforgettable day!

Choose from our wide range of well looked after boats including speed boats, boats with engines ranging from 10hp to 30hp and larger boats that are perfect for families or groups. For those of you with a boat license, we can also offer you a speed boat of 50HP or a large family boat that comes with an engine of 80HP!
Contact and booking information:

Email: This email address is being protected from spambots. You need JavaScript enabled to view it.
Mobile: 6977609699 & 6937423646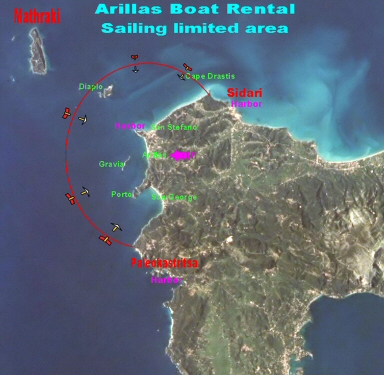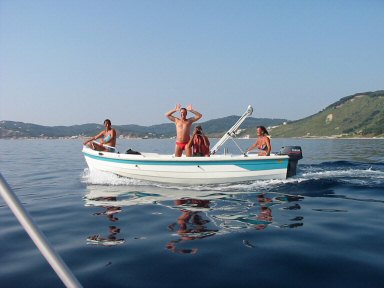 INFORMATION FOR BOAT HIRE
- WEEKLY RENTAL AVAILABLE, HOURLY RENTAL AVAILABLE FROM ARILLAS BEACH
- PLEASE NOTE: PETROL IS NOT INCLUDED IN THE ABOVE PRICES
- FULL INSTRUCTION IS GIVEN ON BOAT PROCEDURES

All boats have:
•    Sun Canopy & ladder to enter & exit the boat
•    3rd Party Insurance, life jackets, safety equipment & emergency contact numbers
•    Map to show limitations
All boats are:
•    Serviced regularly and checked daily to ensure all our boats are in safe, working order.
•    Fully licensed & have been inspected by the Corfu Patrol Police.
- COLLECTION IS FROM SAN STEFANOS HARBOUR or ARILLAS BEACH (TRANSFERS AVAILABLE)
- PLEASE HAVE ID CARD/PASSPORT FOR BOOKING
- BOOK IN ADVANCE!!! IN CASE OF BAD WEATHER ANOTHER DAY WILL BE ARRANGED OR FULL REFUND WILL BE GIVEN.