Welcome to Agios Stefanos, or as you may know it better San Stefanos!
On the North-West coast of the island you will find our quaint little former fishing village. We have welcomed guests old and new over the years and now around 70% of our guests visit us every summer. They are now more like friends than guests. San Stefanos has something to cater for all ages, with our sandy beaches, shallow waters (perfect for young children), friendly atmosphere, wide choice of tavernas, numerous bars and accommodation to suit all budgets.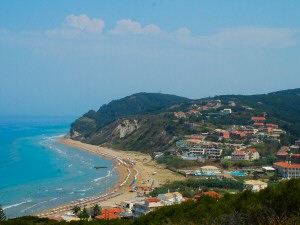 Not so many years ago this was a small local fishing village with none of the amenities you find here today.
This is a truly unique statistic not only for Greece, but for holiday destinations around the world. But after spending your summer vacation with us I'm sure you'll see why people just can't get enough. San Stefanos is a diverse resort, with something to suit everyone right here on your doorstep.  Shops, bars, restaurants, cafes, pools, a glorious beach you name it, we've got it. You can even say "I do" here! But San Stefanos didn't always look this way. If we went back only 50 years there would be none of the facilities that you see here today. 
The original San Stefanos consisted of a few houses, a small church and a harbor. San Stefanos was originally a small fishing village where locals would take their boats out from the harbor and literally fish for their supper.
This is still true of some locals today, the old harbor is still visible but a new working harbor was built to accommodate modern times. San Stefanos is bustling with tourists during the summer months, but in the winter the locals get to enjoy their picturesque surroundings resting and preparing for the following season.
Most local people live in neighboring Avliotes and years ago this was the main town. San Stefanos was just a small fishing village and the locals from Avliotes would come and use San Stefanos beach as their own. 
The majority of businesses within San Stefanos are run by local families who take great pride in making sure that every visitor is made to feel at home. This is one of the reasons that people keep coming back. You may have noticed that most locals here share the same last name, Mouzakitis. It is common in Greek communities that a whole town of people will share the same last name. 
In Avliotes there are even two churches, one for the Mouzakitis' and one for all the others with a different last name. No matter what your last name, you'll feel like part of the family by the end of your stay!